Myofascial Taping workshop
Myofascial taping is a revolutionary, innovative and effective taping and therapy method developed by Markus Erhard. It is totally different from other strapping tape approaches because it is based on NEW FASCIA RESEARCH and the Myofascial connections that rid the body of restrictions and restore the body's natural myofascial balance – instantly and effectively.
The unique elastic properties of the Myofascial tape used in this treatment provides dynamic support that protects the muscles and joints, while being unobtrusive and comfortable at the same time.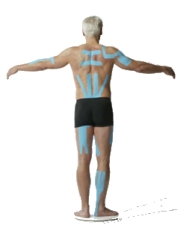 Therapeutic Benefits:
Pain relief – both acute and chronic
Improved muscle function
Improvement of motion with increased range
Enhanced sports performance
Acceleration of the healing process from trauma, injuries and inflammatory conditions
Workshop Details:
When: 14th February 2018 10.00am to 4.00pm
Where: March, Cambridgeshire , PE15 9SZ
Cost: of the workshop is £50
Hosted by Brigette Wiesendanger from Switzerland
To sign up or learn more, call or email me.